Our pre-configured Point of Sale Systems is ready for use and it comes with essential features such as sales reports, customer data, and inventory management.
With a barcode scanner, you can track products, inventory and speed up checkout. Cash register barcode scanners simplifies entire process and saves time during checkout.
POS receipt printer will improve speed and maximize your return on investment. Restaurants, retail stores, banks and other businesses will gain from our wide selection of high-speed receipt printers. Desktop or mobile printer, we have a model to meet your demand.
Efficiently run your business with POS Systems. As a main component all in one POS system handle transactions and operates various components.
Mobile POS (mobile point of sale) is a dedicated wireless device, tablet or smartphone that represent the cash register functions or electronic POS terminal. With mPos you don't need invest in a expensive electronic register, especially if you are a small business owner or just starting you own business. Any tablet or smartphone can be used as mPOS.
With POS Software processing sales, accessing advanced store manager features (inventory, purchase reports, orders, customer data) much easier and quicker. You can access data from anywhere.
Customer POS Displays are an essential component of any Point-of-Sale System. They are available as pole or desktop models. Customer Display communicates directly with the customer. They may contain either multi-line fluorescent or a vivid LCD displays that connect to your system through a USB, Serial, or Parallel connection.
Fingerprint scanner, embedded credit card and smart card readers (MSR) and programmable keys are some of the options in POS keyboards of new generation. Wide selection of fully programmable matrix, small footprint or full-sized models and the most advanced POS keyboard solutions are available.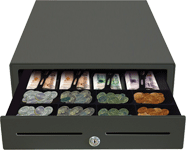 The POS cash drawers are one of the main components of Point-of-Sale System. They may be the simplest part of your POS but it will deliver security and efficiency to your store. Credit card receipts and money can be stored there. Universal interface and compatible with receipt printers will provide you a high efficiency for your business.
Cash Register NY provides various Point of Sale Systems solutions for small, medium and large businesses.
Cash Register NY is a New York based company specializing in conventional Cash Register, POS System, and Retail Point of Sale Systems. We offer complete POS System solutions. With a focused range of innovative and advanced products and services, we will help you to take control of your business by improving your profitability, accuracy, and maximizing the efficiency of your staff. Our Point of Sale equipment and Point of Sale software will provide safe, fast and secure support at any level. Cash Register NY can customize solutions in these categories, helping you make a difference and succeed in business.
We provide bar code scanners, receipt printer, cash drawer, LCD customer displays, pos keyboards, touch screen monitors, and complete POS solutions from industry leaders like Casio, Sharp, Symbol, Metrologic, ELO, Epson, Touch Dynamic, APG, Zebra, Cherry, Infinite Peripherals, Bematech, Partner Tech, Posiflex, Citizen and PC America.
Traditional Cash Register Supply
Restaurant POS Systems
Pizza / Delivery Point of sale Systems
Retail POS System
Grocery Point of sale Systems
Beauty Salon POS Systems
Other Business Point of sale Systems
POS Cash Register
Debit Credit Card Terminals
Point of Sale Software
Restaurant POS Software
Retail POS Software
Spa Salon Software
Point of Sale Supplies
POS Printer Supply
We sell, install and support POS systems.
Call (212) 203-7172