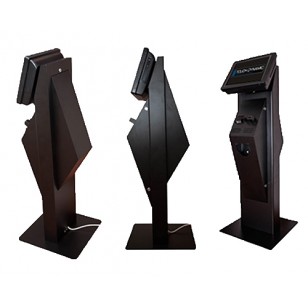 Touch Dynamic Acrobat 14.1 in. Kiosk MT
Brand: TOUCH DYNAMIC
Product Code: 0301034KIOSKpc
Availability: Pre-Order
Touch Dynamic Acrobat 14.1 in. Kiosk MT
1. Touch Dynamic KIOSK-1 with Custom TL80, 80mm, Kiosk Printer with Near End Page Sensor, 60W PSU and Power Cord and 2D Bar Code Imager (Code 1000)
2. Touch Dynamic AR73BMNB, Acrobat, 14,1 in, Projected Capacitive , Intel Celeron J1900 Quad Core 2G Fanless CPU, 4 GIG RAM, 64 GIG SSD, WINDOWS 10 IOT (64 bit)
Please note: Software, Installation and Service Plan are Optional.
1. Touch Dynamic KIOSK-1 - is a unique kiosk designed specifically for flexibility to mount ANY Touch Dynamic Touch Terminal. The Kiosk MT leverages open architecture to deliver a flexible kiosk that will meet the unique needs of a variety of industries including Cinema, Quick-Serve, Self-Serve and Retail industries. The Kiosk MT boasts best in class components from different manufacturers. The Kiosk MT is providing customers with a fast, simple alternative to purchase tickets, pick up will call orders, buy concessions, scan coupon codes from smartphones and more.
CLICK HERE FOR Touch Dynamic-Kiosk-MT-specifications.pdf
• Supports Any Touch Dynamic All-in-One
• Epson Kiosk Thermal Ticket Printer (or other)
• Ticket Tray
• Code Optical Scanner
• Dual Direction ID Tech Spectrum MSR
• Internal Speakers
2. Touch Dynamic AR73BMNB - The Acrobat J1900 All In One boasts a 14.1 in. widescreen LED LCD and comes in two colors making the Acrobat J1900 Touch Dynamic's most versatile All in One. The Acrobat features a Projected Capacitive Touch Screen and a fold flat stand with the option of the VESA Wall Mount the possibility of placement in any environment. The Acrobat J1900 is ideal for environments which require an overall small footprint. Included with every Acrobat J1900 are an Intel Celeron Quad Core J1900 Fanless CPU and a variety of CPU ports including 3 Serial, 5 USB and 1 Cash Drawer. The Optional internal wireless LAN is going to help you meet all your application demands. Spill and dust resistant, coupled with the fanless and ventless features make the Acrobat J1900 able to withstand any and all rugged atmospheres.
CLICK HERE FOR Touch Dynamic-AR73BMNB-specifications.pdf
• Intel® Celeron® Quad Core Processor J1900 2.0 GHz
• Fanless and Ventless: ideal for rugged environments
• 5 USB Ports, 3 Serial Ports, 1 Cash Drawer, 1 Gigabit LAN
• Foldable Stand for Ergonomic Small Footprint
• Wall Mountable (VESA 75 x 75mm)
• Spill and Dust Resistant
• 14.1" Widescreen HD LED LCD
• Projected Capacitive Touch
• SD Card Slot
• Optional Wireless LAN a/g/b/n
• Available in Black & White Finishes
Write a review
Note: HTML is not translated!
Rating: Bad Good