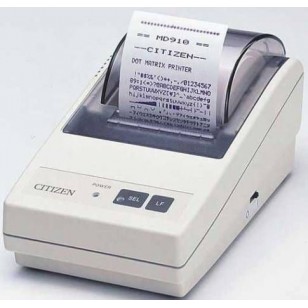 Citizen CBM910II-40PF120 Impact Mini Printer, 40 Column, 58mm, PE Sensor, Parallel Interface, Ivory
Brand: CITIZEN
Product Code: 0305004CBM910II-40PF120
Availability: Pre-Order
Citizen CBM910II-40PF120 - CBM-910II is a compact, palm-sized dot-impact printer providing users with unparalleled features within the impact printer class. It utilizes a plethora of applications from data-logging, coin-counting, instrumentation and measurement terminals. The CBM-910II was designed to be lightweight, ultra compact, low power consumption, low cost and features a paper near-end detection. The unit features either an RS-232C serial or Centronics parallel interface.
CLICK HERE FOR Citizen-CBM910II-40PF120-specifications.pdf
Features
❙❙ Compact desk-top dot matrix printer
❙❙ Light weight
❙❙ High speed printing
❙❙ Paper-near-end detection function
❙❙ Conformity to RS-232C and Centronics
❙❙ Low power consumption
❙❙ Wall mountable
Write a review
Note: HTML is not translated!
Rating: Bad Good