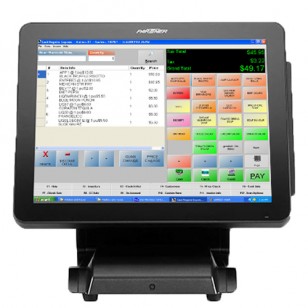 Partner Tech SP-630 All in One Kit
Brand: PARTNERTEC
Product Code: 0301004SP630kit
Availability: Pre-Order
1. PartnerTech SP630-4P7-MSR-64BIT - with the battle underway to win customer loyalty, Partner Tech's SP-630 Touch POS System will arm you with the tools you need to engineer delightful experiences for your customers. When you need a POS system that delivers a wide range of functionality at an exceptional value, look no further but the SP-630. Its advanced design and elegant touchscreen feature some of the most advanced and cost effective features found on any POS system. Please note: Software, Installation and Service Plan are Optional
Intel® Celeron® N2807 processor
4G RAM, 320GHD, POSReady7-64bit, MSR
Flexible modular design
Convenient wall mount and wide tilt angle
Dust-and spray-resistant front panel
(IP65 rating)
2. PartnerTech CD7220ST12110B - Stand Alone Customer Pole Display, 11.5mm, VFD 2x20, Black
CLICK HERE FOR PartnerTech-CD7220ST12110B-specifications.pdf
Two pole sections/four different display heights
Interface: serial port connection
Dual independent displays up to 20 characters per side
Display can rotate 270
Pass-through standard
96 alphanumeric messages w/ 13 international languages
Emulations: Logic Controls, AEDEX, Ultimate, Epson
1-year warranty
3. PartnerTech RP100-SUE - RP-100-300 II is a particularly fast receipt printer with a printing rate up to 300 mm/s with a resolution of 203 dpi. The compact size and integrated wall mounting make this dependable model absolutely ideal for many applications. A wide range of I/O Serial, Ethernet, USB port allows easy installation and simple integration to various POS solutions.
300mm/sec high-speed printing
2D barcode printing
Support full & partial cut
Integrated buzzer
Star or ESC/POS emulation
Wall mount support
4. PartnerTech CD-6E410-55 - Printer Driven, Black, 16 in. x 16 in. , Cash Drawer
Dual Media Slots
All metal construction
High impact cash tray and bill weights
15.95" (W) x 16.65" (L) x 3.85" (H)
5 bill and 5 coin trays
5. Honeywell MS-3780/USB - Honeywell's Fusion 3780 laser barcode scanner combines omnidirectional and single line laser scanning into a lightweight and ergonomic hand-held form factor. The Fusion 3780 scanner's automatic stand detection is allowing users to seamlessly switch from hand-held to presentation scanning. The 20-line scan pattern provides superior scanning, making the Fusion scanner great for medium-volume retailers.
CLICK HERE FOR Honeywell-MS-3780/USB-specifications.pdf
Primary omnidirectional scan pattern
Secondary single-line scan pattern
Automatic stand detection
Sleep mode with IR wake up
Optional EAS integration
Shipped as a complete kit
3-year warranty
Write a review
Note: HTML is not translated!
Rating: Bad Good