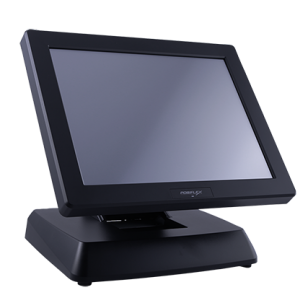 Posiflex XT3915211DGH FanFree 15 in. LCD, Cel. J1900-2GHz, 4G RAM, 128G SSD, POS Ready 7(64-bit), Bezel
Brand: Posiflex
Product Code: 0302004XT3915211DGH
Availability: In Stock
Posiflex XT3915211DGH - The XT3915 is a fan-free, spill-resistant resistive 15" touch screen with a 128GB solid state drive (SSD) as its standard configuration. The SSD eliminates the traditional hard drive just as a mechanical point of failure for maximum uptime and reliability. Its base is fully adjustable and conveniently folds configuring to an optimal angle. By folding flat, the XT3915 is saving up to 40% shipping costs. XT3915 features an Intel Celeron J1900 / 2.0GHz, 2GB standard DDR3L RAM (8 GB maximum) and a 15" resistive touch TFT LCD touch screen. Along with a rich array of connectivity features are options for a mini-PCIe slot for Wi-Fi, PoweredUSB, 8 port hub, second hard drive, backup battery and VESA wall mount bracket. The XT3915 also coming in a projected capacitive touch screen version, the XT3815.
CLICK HERE FOR Posiflex-XT3915211DGH-specifications.pdf
• Intel® Celeron™ J1900 / 2.0GHz
• 2GB DDR3L memory (8GB maximum)
• Solid State 128 GB drive
• Resistive touch • Fan Free
• Spill and dust resistant
• USB 3.0 support
• Digital Brightness Control
• VESA mount capability
• Slim, folding base design
• Optional WiFi
• Optional Upgrade Kits - Powered USB Kit - (1) 24V USB 2.0 Port and (3) 12V USB 2.0 Ports - Powered USB base can house power adapter and backup battery with 150W power supply - 8-Port USB Hub Kit - (8) port USB hub with 150W power supply
Write a review
Note: HTML is not translated!
Rating: Bad Good